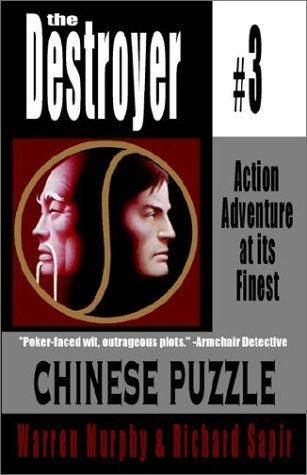 Genre:
action
,
ironical detective
Annotation:
A Chinese diplomat is decidedly deceased and the communist chairman's advisor is shanghaied while burrowing in the Bronx. The State Department is seeing red and a sour situation gets spicy. Now Remo Williams and his Korean mentor, Master Chiun, must save the abducted adviser and compromise the conspiracy before the kung fu hits the fan. As the US and China prepare for nuclear battle and an assassin's bullet has The Destroyer's name on it, the fate of the world is as complicated to solve as a Chinese Puzzle.
Warren Murphy, Richard Sapir Chinese Puzzle
CHAPTER ONE
CHAPTER TWO
CHAPTER THREE
CHAPTER FOUR
CHAPTER FIVE
CHAPTER SIX
CHAPTER SEVEN
CHAPTER EIGHT
CHAPTER NINE
CHAPTER TEN
CHAPTER ELEVEN
CHAPTER TWELVE
CHAPTER THIRTEEN
CHAPTER FOURTEEN
CHAPTER FIFTEEN
CHAPTER SIXTEEN
CHAPTER SEVENTEEN
CHAPTER EIGHTEEN
CHAPTER NINETEEN
CHAPTER TWENTY
CHAPTER TWENTY ONE
CHAPTER TWENTY-TWO
CHAPTER TWENTY-THREE
CHAPTER TWENTY-FOUR
CHAPTER TWENTY-FIVE
Loading...