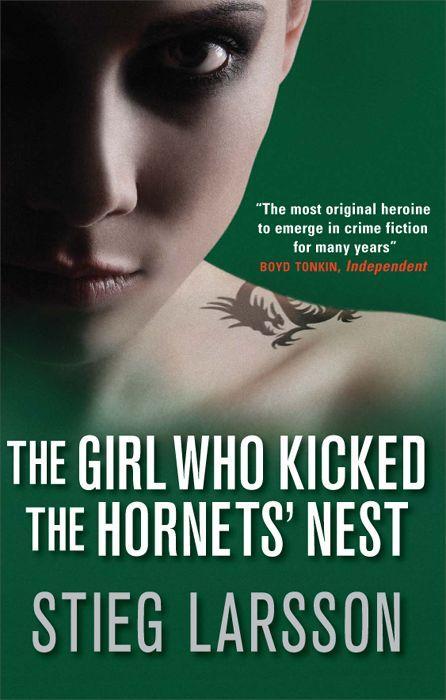 Оценка:
4.6

(

51

)
Genre:
thriller
Annotation:
Salander is plotting her revenge against the man who tried to kill her, and against the government institutions that very nearly destroyed her life. But it is not going to be a straightforward campaign. After taking a bullet to the head, Salander is under close supervision in Intensive Care, and is set to face trial for three murders and one attempted murder on her eventual release. With the help of journalist Mikael Blomkvist and his researchers at Millennium magazine, Salander must not only prove her innocence, but identify and denounce the corrupt politicians that have allowed the vulnerable to become victims of abuse and violence. Once a victim herself, Salander is now ready to fight back.
Stieg Larsson The Girl Who Kicked The Hornets ' Nest
PART I. INTERMEZZO IN A CORRIDOR
8 – 12.IV
CHAPTER 1
FRIDAY, 8.IV
CHAPTER 2
FRIDAY, 8.IV
CHAPTER 3
FRIDAY, 8.IV – SATURDAY, 9.IV
CHAPTER 4
SATURDAY, 9.IV – SUNDAY, 10.IV
CHAPTER 5
SUNDAY, 10.IV
CHAPTER 6
MONDAY, 11.IV
CHAPTER 7
MONDAY, 11.IV – TUESDAY, 12.IV
PART II. HACKER REPUBLIC
1 – 22.V
CHAPTER 8
SUNDAY, 1.V – MONDAY, 2.V
CHAPTER 9
WEDNESDAY, 4.V
CHAPTER 10
SATURDAY, 7.V – THURSDAY, 12.V
CHAPTER 11
FRIDAY, 13.V – SATURDAY, 14.V
CHAPTER 12
SUNDAY, 15.V – MONDAY, 16.V
CHAPTER 13
TUESDAY, 17.V
CHAPTER 14
WEDNESDAY, 18.V
CHAPTER 15
THURSDAY, 19.V – SUNDAY, 22.V
PART III. DISK CRASH
27.  V – 6.VI
CHAPTER 16
FRIDAY, 27.V – TUESDAY, 31.V
CHAPTER 17
WEDNESDAY, 1.VI
CHAPTER 18
THURSDAY, 2. VI
CHAPTER 19
FRIDAY, 3.VI – SATURDAY 4.VI
CHAPTER 20
SATURDAY, 4.VI
CHAPTER 21
SATURDAY, 4.VI – MONDAY, 6.VI
CHAPTER 22
MONDAY, 6.VI
PART IV. REBOOTING SYSTEM
I.VII – 7.X
CHAPTER 23
FRIDAY, 1.VII – SUNDAY, 10.VII
CHAPTER 24
MONDAY, 11.VII
CHAPTER 25
WEDNESDAY, 13.VII – THURSDAY, 14.VII
CHAPTER 26
FRIDAY, 15.VII
CHAPTER 27
FRIDAY, 15.VII
CHAPTER 28
FRIDAY, 15.VII – SATURDAY, 16.VII
CHAPTER 29
SATURDAY, 16.VII – FRIDAY, 7.X
EPILOGUE. INVENTORY OF ESTATE
FRIDAY, 2.XII – SUNDAY, 18.XII
A NOTE ABOUT THE AUTHOR
STIEG LARSSON, 1954-2004
Notes
Loading...