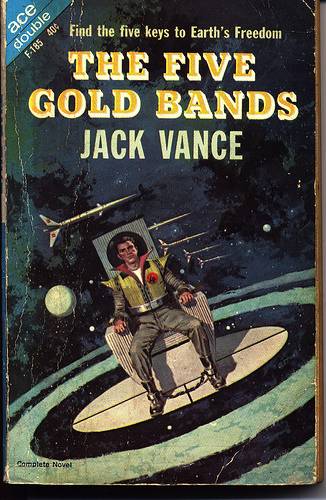 Оценка:
2.5

(

2

)
Genre:
fantasy
Annotation:
When earthlings discover that the galaxy is teeming with advanced societies with the secrets of interstellar travel, one of them steals the technology, triggering a massive manhunt across the stars.

HIDE-AND-GO-SEEK AMONG THE PLANETS

Five bracelets of solid gold-five clues that began an interstellar treasure hunt. And as the luck of the Irish would have it, Paddy Blackthorn found himself the chief hunter-and the chief hunted.

He had only the cryptic messages imprinted in the five armbands so involuntarily left him by the five planetary rulers. He had also the help of a little, black-haired Earther girl to figure out their secrets.

But it was no children`s game they were playing. Old Mother Earth, now abandoned by her spawn, foundered on the verge of extinction. Only the treasure Paddy sought would suffice to rescue the home planet-and incidentally to rule the rest of the cosmos.
Read this book now
Download in formats: fb2 142k, lrf 278k, epub 214k, mobi 280k, txt, html
Jack Vance The Five Gold Bands
Loading...