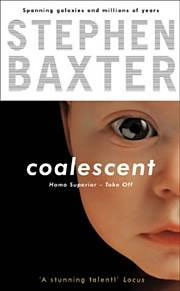 Serie:
unknown
Genre:
fantasy
Annotation:
Baxter connects the lives of George Poole in the present and Regina at the end of the Roman empire. George s father has just died, and the picture of a girl, Rosa, comes to light in his effects. Rosa is the mysterious twin George never knew, and he becomes consumed with the desire to find her. Regina s part of the story begins in Britain at the end of Roman rule and takes her through the western empire s collapse to Rome itself. Back to the near-past: George s sister, it develops, had been sent to the Order of Mary, Queen of Virgins, which has existed, hive-like, in Rome since the time of Regina, one of its founders. George is Regina s descendant, and the order being rather a family affair, George arrives at many uncomfortable realizations as he learns more about it. Opening with an artificial anomaly discovered in the Kuiper Belt beyond Neptune and ending with disturbing extrapolation of humanity s future, Coalescent is a fabric of many slowly developed plot threads woven into a tight tapestry.
Read this book now
Download in formats: fb2 392k, lrf 707k, epub 497k, mobi 723k, txt, html
Coalescent by Stephen Baxter
ONE
TWO
THREE
FOUR
Loading...