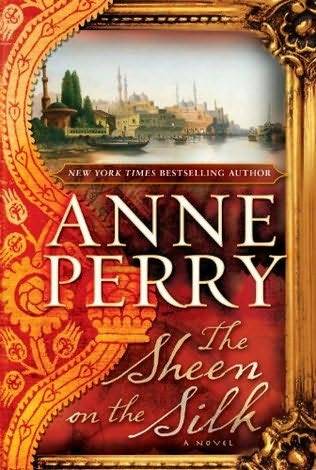 Genre:
historical detective
Annotation:
New York Times bestselling novelist Anne Perry, the undisputed Queen of Victorian mysteries and the author of an acclaimed series set during World War I, now broadens her canvas with her first major stand-alone book an epic historical novel set in thirteenth-century Constantinople, where a woman must live a lie in her quest to uncover the truth. Arriving in the ancient Byzantine city in the year 1273, Anna Zarides has only one mission: to prove the innocence of her twin brother, Justinian, who has been exiled to the desert for conspiring to kill Bessarion, a nobleman. Disguising herself as a eunuch named Anastasius, Anna moves freely about in society, using her skills as a physician to manoeuver close to the key players involved in her brother`s fate. With her medical practice thriving, Anna crosses paths with Zoe Chrysaphes, a devious noblewoman with her own hidden agenda, and Giuiliano Dandolo, a ship`s captain conflicted not only by his mixed Venetian-Byzantine heritage but by his growing feelings for Anastasius. Trying to clear her brother`s name, Anna learns more about Justinian`s life and reputation including his peculiar ties to Bessarion`s beautiful widow and his possible role in a plot to overthrow the emperor. This leaves Anna with more questions than answer, and time is running out. For an even greater threat lies on the horizon: Another Crusade to capture the Holy Land is brewing, and leaders in Rome and Venice have set their sights on Constantinople for what is sure to be a brutal invasion. Anna`s discoveries draw her inextricably closer to the dangers of the emperor`s treacherous court where it seems that no one is exactly who he or she appears to be. Richly detailed and finely wrought, The Sheen on the Silk is a bold and brilliant work that affirms Anne Perry`s talent as a master storyteller.
Anne Perry The Sheen of the Silk
Chart of Characters
Prologue
One
Two
Three
Four
Five
Six
Seven
Eight
Nine
Ten
Eleven
Twelve
Thirteen
Fourteen
Fifteen
Sixteen
Seventeen
Eighteen
Nineteen
Twenty
Twenty-one
Twenty-two
Twenty-three
Twenty-four
Twenty-five
Twenty-six
Twenty-seven
Twenty-eight
Twenty-nine
Thirty
Thirty-one
Thirty-two
Thirty-three
Thirty-four
Thirty-five
Thirty-six
Thirty-seven
Thirty-eight
Thirty-nine
Forty
Forty-one
Forty-two
Forty-three
Forty-four
Forty-five
Forty-six
Forty-seven
Forty-eight
Forty-nine
Fifty
Fifty-one
Fifty-two
Fifty-three
Fifty-four
Fifty-five
Fifty-six
Fifty-seven
Fifty-eight
Fifty-nine
Sixty
Sixty-one
Sixty-two
Sixty-three
Sixty-four
Sixty-five
Sixty-six
Sixty-seven
Sixty-eight
Sixty-nine
Seventy
Seventy-one
Seventy-two
Seventy-three
Seventy-four
Seventy-five
Seventy-six
Seventy-seven
Seventy-eight
Seventy-nine
Eighty
Eighty-one
Eighty-two
Eighty-three
Eighty-four
Eighty-five
Eighty-six
Eighty-seven
Eighty-eight
Eighty-nine
Ninety
Ninety-one
Ninety-two
Ninety-three
Ninety-four
Ninety-five
Ninety-six
Ninety-seven
Book List
ABOUT THE AUTHOR
Loading...