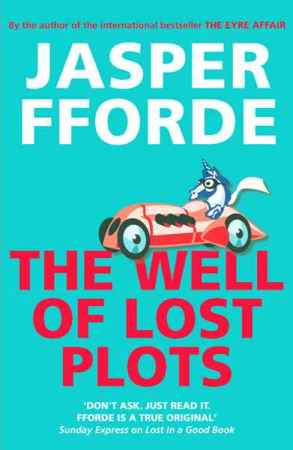 Оценка:
3.7

(

3

)
Serie:
Thursday Next
Genre:
fantasy
Annotation:
Thursday Next: the story so far …
Swindon, Wessex, England, circa 1985. SpecOps is the agency responsible for policing areas considered too specialised to be tackled by the regular force, and Thursday Next is attached to the literary detectives at SpecOps 27. Following the successful return of Jane Eyre to the novel of the same name, vanquishing master criminal Acheron Hades and bringing peace to the Crimean peninsula, she finds herself a minor celebrity.
On the trail of the seemingly miraculous discovery of the lost Shakespeare play Cardenio, she crosses swords with Yorrick Kaine, escapee from fiction and neo-fascist politician. She also finds herself blackmailed by the vast multinational known as the Goliath Corporation, who want their operative Jack Schitt out of Edgar Allan Poe's 'The Raven' in which he was imprisoned. To achieve this they call on Lavoisier, a corrupt member of the time-travelling SpecOps elite, the ChronoGuard, to kill off Thursday's husband. Travelling back thirty-eight years, Lavoisier engineers a fatal accident for the two-year-old Landen, but leaves Thursday's memories of him intact — she finds herself the only person who knows he once lived.
In an attempt to rescue her eradicated husband, she finds a way to enter fiction itself — and discovers that not only is there a policing agency within the BookWorld known as Jurisfiction, but that she has been apprenticed as a trainee agent to Miss Havisham of Great Expectations. With her skills at bookjumping growing under Miss Havisham's stern and often unorthodox tuition, Thursday rescues Jack Schitt, only to discover she has been duped. Goliath have no intention of reactualising her husband, and instead want her to open a door into fiction, something Goliath has decided is a 'rich untapped marketplace' for their varied but ultimately worthless products and services.
Thursday, pregnant with Landen's child and pursued by Goliath and Acheron's little sister Aornis, an evil genius with a penchant for clothes shopping and memory modification, decides to enter the BookWorld and retire temporarily to the place where all fiction is created: the Well of Lost Plots. Taking refuge in an unpublished book of dubious quality as part of the Character Exchange Programme, she thinks she will have a quiet time.
Year:
2003 г.
Jasper Fforde The Well of Lost Plots (Thursday Next #3)
Acknowledgements
1 The absence of breakfast
2 Inside Caversham Heights
3 Three witches, multiple choice and sarcasm
4 Landen Parke-Laine
5 The Well of Lost Plots
6 Night of the grammasites
7 Feeding the minotaur
8 Ton sixty on the A 419
9 Apples Benedict, a hedgehog and Commander Bradshaw
10 Jurisfiction session number 40319
11 Introducing Ultra Word ™
12 Wuthering Heights
14 Educating the Generics
15 Landen Parke-somebody
16 Captain Nemo
17 Minotaur trouble
18 Snell Rest in Peece and Lucy Deane
19 Shadow the Sheepdog
20 Ibb and Obb named and Heights again
21 Who stole the tarts?
22 Crimean nightmares
23 Jurisfiction session number 40320
24 Pledges, the Council of Genres and searching for Deane
25 Havisham: the final bow
26 Post-Havisham blues
27 The lighthouse at the edge of my mind
28 Lola departs and Heights again
29 Mrs Bradshaw and Solomon (Judgements) Inc.
30 Revelations
31 Tables turned
32 The 923rd Annual BookWorld Awards
33 UltraWord ™
34 Loose ends
Credits
notes
Loading...