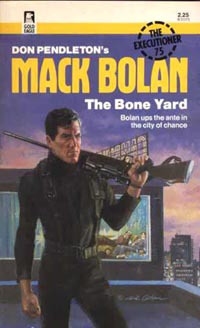 Serie:
The Executioner
Genre:
action
Annotation:
Theres a wild card in Vegas.

The Mafia, the Japanese yakuza and the Vegas Old Guard each want control of the city.

Mack Bolan is the new player and hes dealing in death, with skills learned in a hell called Nam and honed to a sharp edge in the urban jungle.

To shave the odds the Executioner pulls a Joker from the deck, Tommy Anders. The game is down to one last hand — winner takes all.
Read this book now
Download in formats: fb2 126k, epub 311k, mobi 280k, txt, html