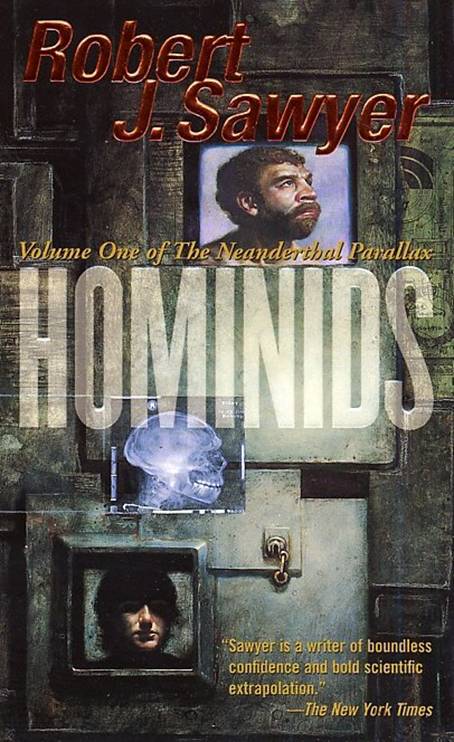 Оценка:
4.0

(

2

)
Serie:
Volume One of the Neanderthal Parallax
Genre:
fantasy
Annotation:
The Hugo Award Winner–2003

Hominids examines two unique species of people. We are one of those species; the other is the Neanderthals of a parallel world where they became the dominant intelligence. The Neanderthal civilization has reached heights of culture and science comparable to our own, but with radically different history, society and philosophy.

Ponter Boddit, a Neanderthal physicist, accidentally pierces the barrier between worlds and is transferred to our universe. Almost immediately recognized as a Neanderthal, but only much later as a scientist, he is quarantined and studied, alone and bewildered, a stranger in a strange land. But Ponter is also befriended—by a doctor and a physicist who share his questing intelligence, and especially by Canadian geneticist Mary Vaughan, a woman with whom he develops a special rapport.

Ponter's partner, Adikor Huld, finds himself with a messy lab, a missing body, suspicious people all around and an explosive murder trial. How can he possibly prove his innocence when he has no idea what actually happened to Ponter?
Read this book now
Download in formats: fb2 272k, lrf 474k, epub 350k, mobi 470k, txt, html
Chapter 1
Day One
Friday, August 2
Keep Door Closed
Danger: High Voltage Cables
No Unauthorized Electronic Equipment Beyond This Point
Chapter 9
Day Two
Saturday, August 3
Chapter 20
Day Three
Sunday, August 4
148/118/26
Chapter 26
Day Four
Monday, August 5
148/118/27
Chapter 30
Day Five
Tuesday, August 6
148/118/28
Chapter 32
Day Six
Wednesday, August 7
148/118/29
Chapter 40
Day Seven
Thursday, August 8
148/119/01
Chapter 42
Day Eight
Friday, August 9
148/119/02
Chapter 47
Six Days Later
Friday, August 16
Loading...