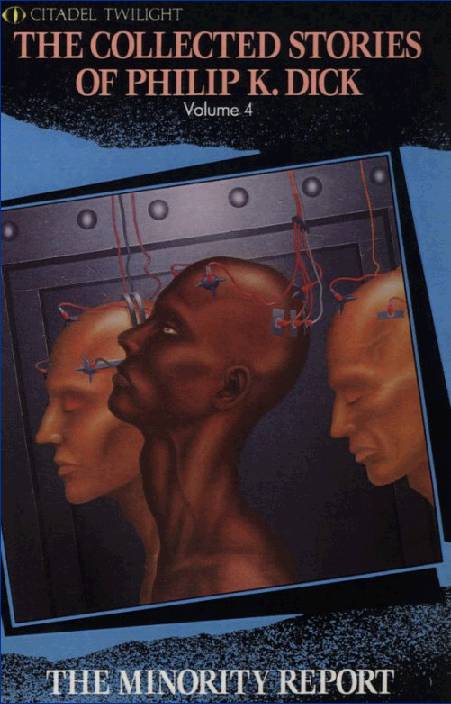 Оценка:
4.8

(

154

)
Serie:
The Collected Stories of Philip K. Dick
Genre:
fantasy
Annotation:
Many thousands of readers consider Philip K. Dick the greatest science fiction mind on any planet. Since his untimely death in 1982, interest in Dick s works has continued to mount and his reputation has been further enhanced by a growing body of critical attention. The Philip K. Dick Award is now given annually to a distinguished work of science fiction, and the Philip K. Dick Society is devoted to the study and promulgation of his works.
This collection includes all of the writer s earliest short and medium-length fiction (including some previously unpublished stories) covering the years 1954-1964. These fascinating stories include Service Call , Stand By , The Days of Perky Pat , and many others.
The Minority Report and Other Classic Stories by Philip K. Dick
Introduction by James Tiptree, Jr.
Autofac
I
State Nature of Defect
A Factory Representative
Will Be Sent out.
Be Prepared to Supply Complete Data
on Product Deficiency.
II
III
All Shipments Suspended until Further Notice
IV
Service Call
Electronic Service Industries
455 Montgomery Street, San Francisco 14. Ri8-4456n
Est. 1963
Captive Market
U.S. ARMY ORDNANCE
SERIES A-3 (B)
The Mold of Yancy
The Minority Report
I
II
LEOPOLD KAPLAN
III
IV
V
VI
VII
VIII
IX
Recall Mechanism
The Unreconstructed M
I
BANISH IT!
II
Type of utilized vehicle (color) 7
Lantano, David
III
FULTON BROTHERS
locksmiths
Explorers We
War Game
If There Were No Benny Cemoli
Curb Lands, Trip Decade Long, Plans Central Administration
Security Agency Vows "War Criminals" Target
Cemoli Backers Riot in Upstate New York
New York Police Report Cemoli Legions
On Move Toward City,
Barricades Erected, National Guard Alerted
Cemoli Enters Coalition UN Government,
Temporary Cessation of Hostilities
Down With Cemoli
Where Are the Oranges?
Novelty Act
Waterspider
I
II
III
IV
V
Night Flight
—Poul Anderson
VI
What the Dead Men Say
I
II
Voice from Outer Space Baffles Scientists
III
IV
V
Gam Wins Nomination, Promises Battling Campaign
for November Election
Orpheus With Clay Feet
The Days of Perky Pat
Stand-by
What 'll We Do with Ragland Park?
Oh, To Be A Blobel!
Make Swift Profits in Your Own Condo!
Raise Giant Bullfrogs From Jupiter, Capable of Eighty-Foot Leaps.
Can Be Used in Frog-Racing (where legal) and …
Notes
Loading...