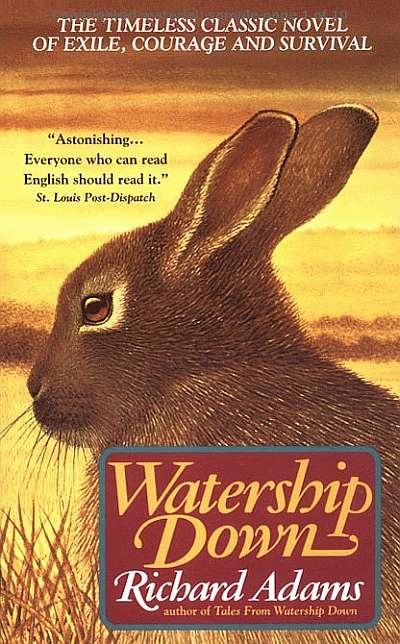 Îöåíêà:
4.9

(

29

)
Genre:
fantasy
,
heroic
Annotation:
The timeless classic novel of exile, courage and survival.

Richard Adams is the author of many bestselling novels, including Watership Down (1974), Shardik (1976), The Plague Dogs (1978), The Girl in a Swing (1980), Maia (1985), and Traveller (1988), as well as several works of nonfiction, including his autobiographical The Day Gone By (1991). He and his wife live in the south of England.
Richard Adams Watership Down
Note
Acknowledgements
PART I The Journey
1.  The Notice Board
2.  The Chief Rabbit
3.  Hazels Decision
4.  The Departure
5.  In the Woods
6.  The Story of the Blessing of El-ahrairah
7.  The Lendri and the River
8.  The Crossing
9.  The Crow and the Beanfield
10.  The Road and the Common
11.  Hard Going
12.  The Stranger in the Field
13.  Hospitality
14. Like Trees in November"
15.  The Story of the Kings Lettuce
16.  Silverweed
17.  The Shining Wire
PART II On Watership Down
18.  Watership Down
19.  Fear in the Dark
20.  A Honeycomb and a Mouse
21.  "For El-ahrairah to Cry"
22.  The Story of the Trial of El-ahrairah
23.  Kehaar
24.  Nuthanger Farm
25.  The Raid
26.  Fiver Beyond
27.  "You Can Imagine It Unless Youve Been There"
28.  At the Foot of the Hill
29.  Return and Departure
PART III Efrafa
30.  A New Journey
31.  The Story of El-ahrairah and the Black Rabbit of Inl
32.  Across the Iron Road
33.  The GreatRiver
34.  General Woundwort
35.  Groping
36.  Approaching Thunder
37.  The Thunder Builds Up
38.  The Thunder Breaks
PART IV Hazel-rah
39.  The Bridges
40.  The Way Back
41.  The Story of Rowsby Woof and the Fairy Wogdog
42.  News at Sunset
43.  The Great Patrol
44.  A Message from El-ahrairah
45.  Nuthanger Farm Again
46.  Bigwig Stands His Ground
47.  The Sky Suspended
48.  Dea ex Machina
49.  Hazel Comes Home
50.  And Last
Epilogue
Lapine Glossary
Ïðèìå÷àíèÿ
Loading...