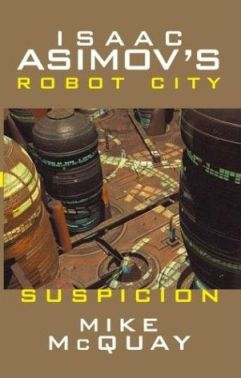 Serie:
Isaac Asimov''s Robot City
Genre:
fantasy
Read this book now
Download in formats: fb2 508k, lrf 609k, epub 695k, mobi 565k, txt, html
Mike McQuay Suspicion
Isaac Asimovs Robot City. Book 2
LIST CITY DEFENSES.
ADVANCE REPLICATION
SEAL CONTAMINATION
HALT CENTRAL CORE INPUT
MOBILATE CENTRAL CORE
LOCALIZE EMERGENCY TERMINALS
ALIEN CONTAMINATION IN QUADRANT #4.
CITE NATURE OF CONTAMINATION.
ISOLATE CONTAMINATION OR PRESENCE
DEFINE NATURE OF THREAT
NEUTRALIZE THREAT
LIST PROCEDURE C-15
ISOLATE MOBILATED CENTRAL CORE
ENTER CENTRAL CORE
PROVIDE SUPERVISOR PASSWORD
AVERNUS-2Q2-1719
Data Bank
Loading...