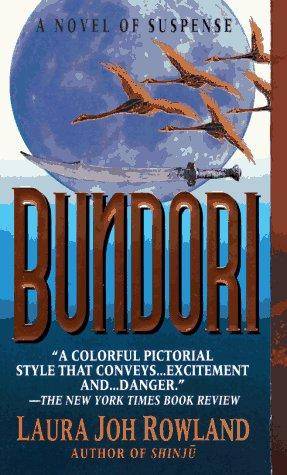 Genre:
historical detective
Annotation:
From Publishers Weekly

Brutal murders linked to an ancient betrayal send late 17th-century Tokyo into a panic. They also spell big trouble for the Shogun's special investigator, Sano Ichiro, in this sequel to Rowland's well-received first novel, Shinju. The killings are made known when the severed heads of the victims are put on public display, in the manner of an ancient custom known as bundori, or war trophy. The victims are descendants of warriors who, more than a century earlier, were involved in the murder of a powerful warlord. As the killings continue, Sano, though hampered in his investigation by his devotion to the warrior-code of bushido and its precepts of silent obedience and service, suspects three of the most powerful men in the Shogunate, including Chamberlain Yanagisawa. Also complicating Sano's quest for the truth is a female ninja in Yanagisawa's power; aiding it are an eager young officer in the Tokyo police and a quirky old morgue attendant. Sano's allegiance to bushido makes him an unexpectedly passive hero, undermining the author's apparent attempt to wed Japanese philosophy to Western mystery-thriller conventions. But the novel reads smoothly and positively smokes with historical atmospherics.

From Library Journal

Part historical novel, part detective story, and part romance, Rowland's sequel to Shinju (LJ, 8/94) features, once again, the samurai detective Sano Ichiro, working for the shogun of the city of Edo in Tokugawa-era Japan. Several questionable plot devices effectively remove the novel from the detective genre, but the story is well constructed and compulsively readable. Sano must track down, virtually single-handedly, a serial killer who is at work in the region and whose motivation is complex, related to events of 129 years prior. The detective's job is complicated by court intrigue, increasingly so as his clues point toward suspects of influence. The richness of the historical detail adds enormously to the novel, and the reader comes away with a highly visual sense of life in feudal Japan. An enjoyable light reading experience, recommended for public libraries and popular reading collections.

David Dodd, Univ. of Colorado Libs., Colorado Springs
Read this book now
Download in formats: fb2 275k, lrf 486k, epub 501k, mobi 472k, txt, html
Laura Joh Rowland Bundori: A Novel Of Japan
Loading...