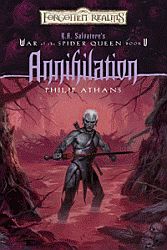 Serie:
War of the Spider Queen
Genre:
heroic
Annotation:
A journey through the unforgiving expanse of the endless Abyss awaits. At the end of that journey a ragged band of dark elves hope to find Lolth herself. Through they've managed to survive the fall of Ched Nasad, the demon-haunted ruins of Myth Drannor, and the vicious cunning of aboleth slave-masters, the Underdark is child's play compared to the chaotic infinity of the Demonweb Pits. They'll go to find the truth but may well find only Annihilation.
Read this book now
Download in formats: fb2 217k, lrf 392k, epub 424k, mobi 477k, txt, html
Philip Athans "Annihilation" "War of the Spider Queen" Book V
Loading...