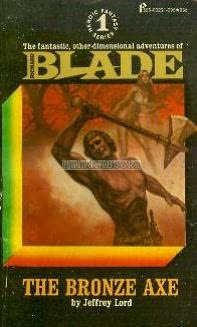 Genre:
fantasy
Annotation:
* The first book in the Richard Blade series(1969) *
Blasted into a fantastic new world, Richard Blade woke at the feet of a strange and beautiful woman, Taleen, Princess of Voth. Running for her life from the savage Albs who had kidnapped her. Without clothes or weapons of any kind, Blade was in trouble himself - but the seductive Taleen needed help . . . Strange experiences were nothing new to Blade, but he was ill-prepared for his trial by fire and sword, the secret cannibal rites of the Drus, the unquenchable lusts of the evil Queen Beata, and the maddening teasing of the virgin Taleen.
Read this book now
Download in formats: fb2 247k, lrf 354k, epub 431k, mobi 326k, txt, html
Jeffrey Lord The Bronze Axe
Loading...